Dawlish historian: The history of Coastguards Cottages and the railway station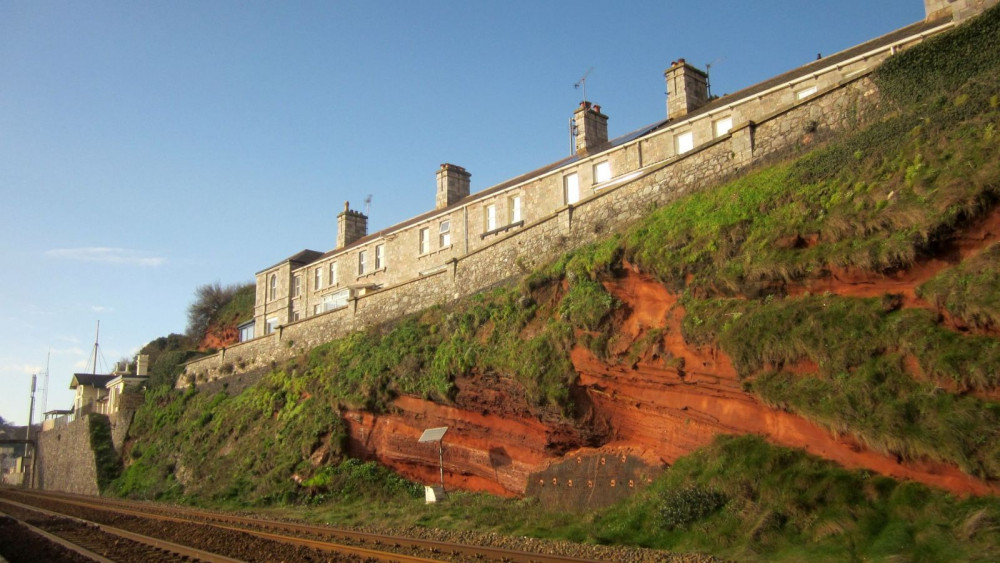 Coastguard Cottages in 2014 (By Derek Harper, CC BY-SA 2.0, https://commons.wikimedia.org/w/index.php?curid=123288453)
We now move on to the railway station and Coastguards Cottages in our tour of historical buildings and streets.
Dawlish railway station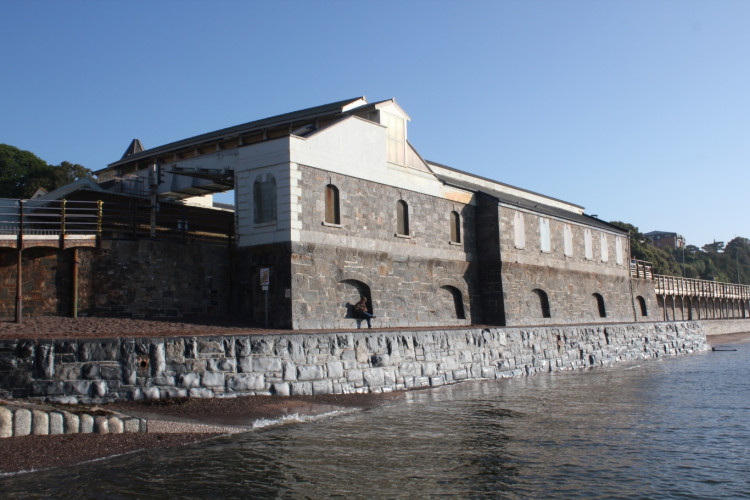 Dawlish railway station in 2018 (By Geof Sheppard, CC BY-SA 4.0, https://commons.wikimedia.org/w/index.php?curid=70945751)
A listed building showing some Italianate features. The seaward side keeps a partly rugged stone face, but has been partly obscured by the new concrete wall protecting the station.
Dating from 1875 after its wooden predecessor had been burnt down by a spark from a passing locomotive, the building is largely unchanged from that period and is the best example of the South Devon Railway stations left, which ran the line prior to the Great Western Railway.
The platform level at the end of the viaduct is high enough to allow a two-storey booking office which boasts an ornate roof.
There was once a bookshop/ newspaper shop on the landside platform. Also on this platform were a luggage lift and the stationmaster's office.
On the opposite platform there were the lavatories and general waiting room. There was also a rarely used door and footway to the beach for excursion and special trains.
Coastguards Cottages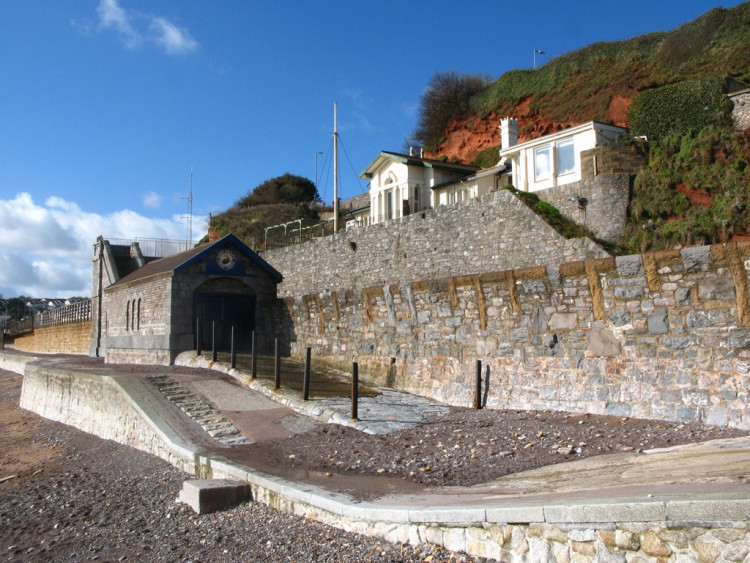 Coastguard boathouse and watchhouse in 2010 (By Geof Sheppard, CC BY-SA 4.0, https://commons.wikimedia.org/w/index.php?curid=27917272)
A Preventive Water Guard House was built at the end of the present railway car park to guard against smuggling in the 1800s, but when the railway was built it had to be demolished.
A boathouse was built on the seaward side of the railway with slipways for the boat to reach the water.
Soon afterwards, the watchhouse was built on the other side of the railway but forced the closure of the toll road there.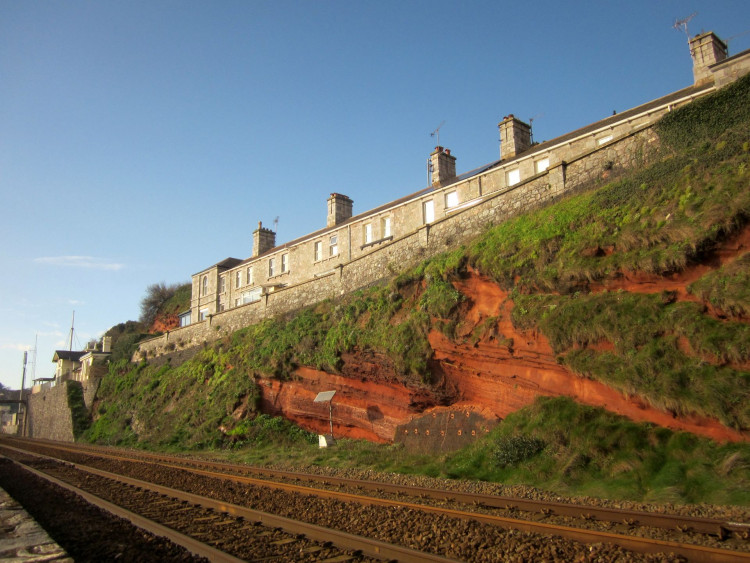 Coastguard Cottages in 2014 (By Derek Harper, CC BY-SA 2.0, https://commons.wikimedia.org/w/index.php?curid=123288453)
Nine cottages and an officer's house were built adjacent. They are well built with cavity walls a metre thick with brick inside and limestone outside. For protection from the sea the cliff face was walled in.
Later, some of the houses were sold off privately, with the rest sold in the 1930s.
The boathouse was in the way of the new improved seawall and was demolished recently but the rest of the houses look in good condition externally.
----------
Ed: This article is part of local historian Ray Bickel's series on Dawlish history. Use the links below to read previous articles:
Part One: What were the origins of Dawlish?
Part Two: The origins of St Gregory's Church
Part Three: The history of Dawlish's churches
Part Four: The origins of the Lawn and Tuck's Plot
Part Five: Tuck's Plot, the Lawn and the swans at the turn of the century
Part Six: The origins of Brunel's railway
Part Seven: Blowing up cliffs and Brunel's Atmospheric Railway
Part Eight: The early days of the railway
Part Nine: The 2014 storm and plans for a Dawlish avoiding line
Part 10: Pubs of Dawlish, past and present
Part 11: Pubs of Dawlish, past and present part II
Part 12: Pubs of Dawlish, past and present part III
Part 13: Pubs of Dawlish, past and present part IV
Part 14: Pubs of Dawlish, past and present part V
Part 15: Historic houses of Dawlish
Part 16: Historic houses of Dawlish part II
Part 17: Historic houses of Dawlish part III
Part 18: Historic houses of Dawlish part IV
Part 19: Historic houses of Dawlish part V
Part 20: The history of Marine Parade