Local historian: The 2014 storm and plans for a Dawlish avoiding line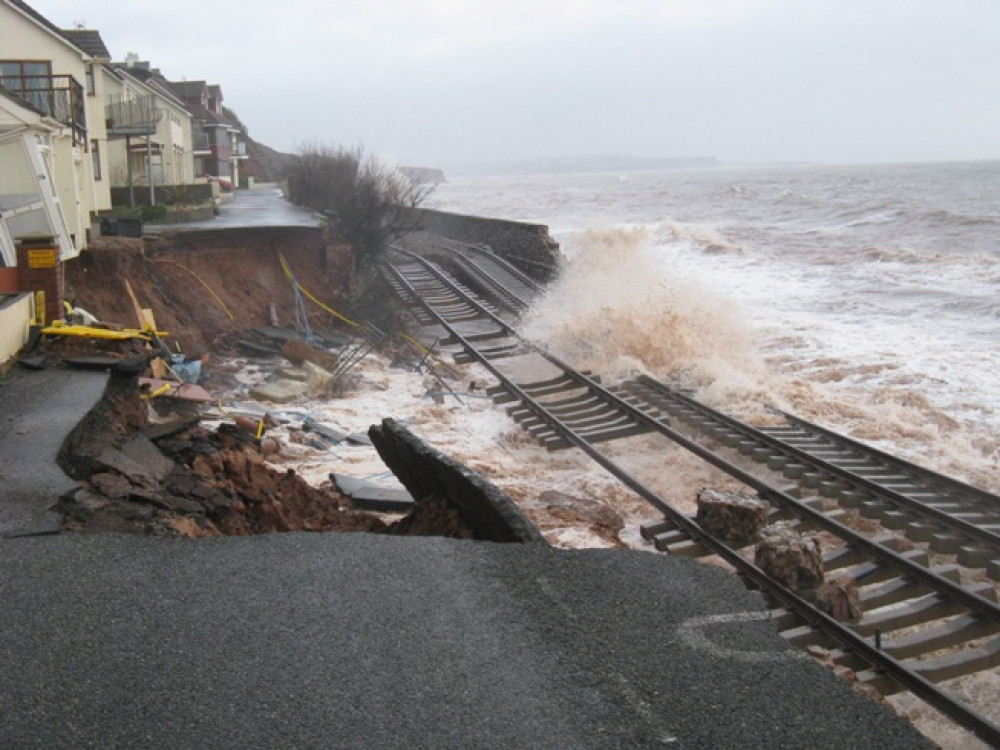 Damage to the railway at Dawlish in Devon (Network Rail)
We conclude our study of the railways in Dawlish.
In the 1930s, there were serious plans for a Dawlish avoiding line (an alternative to the existing railway along the South Devon Railway sea wall) to be built.
The line wouldn't have stopped in Dawlish but would have demolished some properties in the town.
However, the Second World War intervened, and in 1949 it was abandoned.
During the 1950s, the number of passengers rose to an all-time high, but road traffic was increasing quickly and the golden age was quickly over.
The 2014 storm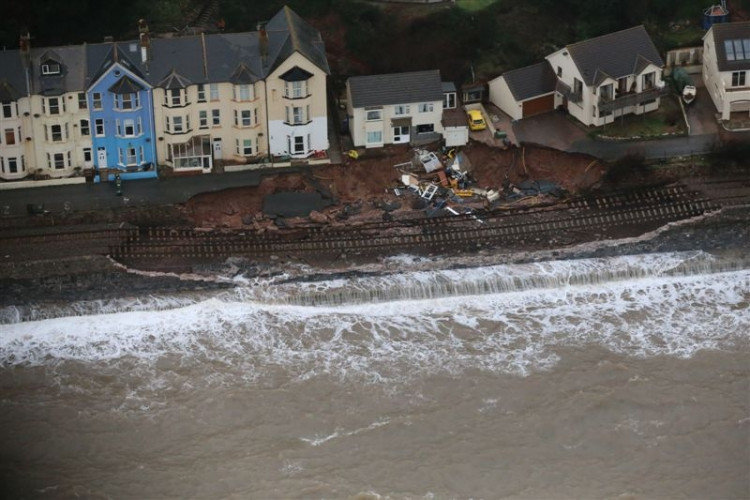 Dawlish - aerial view of the damage (Network Rail)
On 5 February 2014, the railway track was subjected to a massive easterly storm, the direction that our coast is always vulnerable to.
The storm and sea wall was undermined and the infill sucked out, leaving the track hanging in the air.
There was also a large hole created, which exposed and undermined the foundations of houses on Riviera Terrace. Many of the residents were evacuated.
A large 'orange' workforce descended on the town for the repairs, which started with shoring the hole with containers filled with stones. Trains terminated at Exeter and Newton Abbot.
After an almighty effort, the line reopened on 4 April 2014. However, it was estimated the region had lost £1.2 billion during the closure.
It was soon realised the rest of the sea wall section through Dawlish also needed upgrading, and a two-section plan was proposed.
As I write, the first section is open and in use but the second section is still being worked upon. As with the railway itself, the residents are split on this development.
So we leave the railway.
----------
Ed: This article is part of local historian Ray Bickel's series on Dawlish history. Use the links below to read previous articles:
Part One: What were the origins of Dawlish?
Part Two: The origins of St Gregory's Church
Part Three: The history of Dawlish's churches
Part Four: The origins of the Lawn and Tuck's Plot
Part Five: Tuck's Plot, the Lawn and the swans at the turn of the century
Part Six: The origins of Brunel's railway
Part Seven: Blowing up cliffs and Brunel's Atmospheric Railway
Part Eight: The early days of the railway