Dawlish historian: The origins of Brunel's railway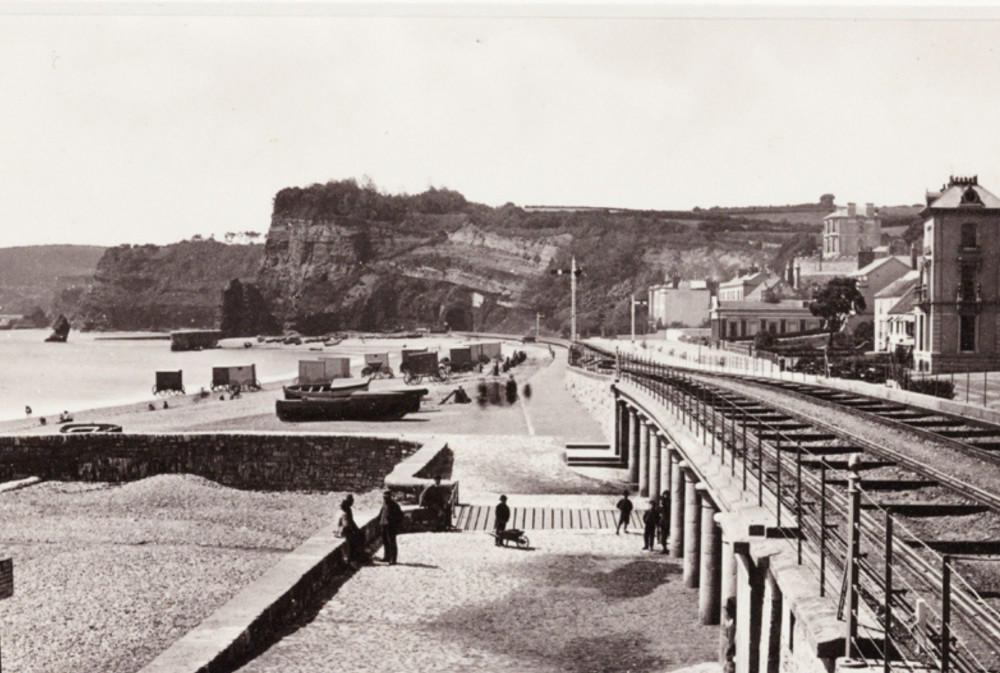 Photo of railway with bathing machines on beach c.1875 (By National Media Museum from UK, https://commons.wikimedia.org/w/index.php?curid=30445349)
So we move from the Lawn through York Gardens to the seafront. Dawlish had only been a large village until 1800 with agriculture and fishing the main industries.
Dawlish now began developing as a watering place, with house-building moving away from it's historic core near the church towards the seafront.
The population increased from 1,424 in 1801 to 3,132 in 1841. Because of the sought-after mild, winter climate the number of visitors in winter was similar to that of the summer, but were only high-class and some middle-class.
Dawlish developed due to its sheltered position, and the bathing offered from bathing machines into the sea, or from 1805 the public baths on the seafront.
The origins of the railway
When plans for a railway line between Exeter and Plymouth were first proposed in 1836, Brunel chose a line which was inland behind Dawlish and Teignmouth with long tunnels and with stations somewhat distant from the towns.
However, at the last minute, the Exeter, Plymouth and Devonport Railway Company dropped the plans.
After a number of aborted plans for the railway, the Plymouth, Devonport and Exeter Company was formed and in 1843 appointed Brunel to resurvey the route.
The route chosen was very different to that of 1836, with a sea wall route being chosen following the River Exe, the coast and the River Teign to Newton Abbot. Also, the company changed its' name to the South Devon Railway.
Brunel underplayed the impact of the sea, with his original plan being to cut off Boat Cove and Coryton Cove from the sea with his line.
When south-easterly winds coincided with a high tide, the houses on Marine Parade were often flooded. Also, there were a number of objectors in Dawlish, many of whom thought the line would destroy the interests of the town.
To look at these objections James Walker was appointed to report on the line. He managed to move the line nearer the cliffs away from the coves and a walkway built along the shore for fishermen and the public to walk along.
So, to the building of the line ... next time!
----------
Ed: This is the sixth part of local historian Ray Bickel's series on Dawlish history. Use the links below to read previous articles:
Part One: What were the origins of Dawlish?
Part Two: The origins of St Gregory's Church
Part Three: The history of Dawlish's churches
Part Four: The origins of the Lawn and Tuck's Plot
Part Five: Tuck's Plot, the Lawn and the swans at the turn of the century