Dawlish historian: The early days of the railway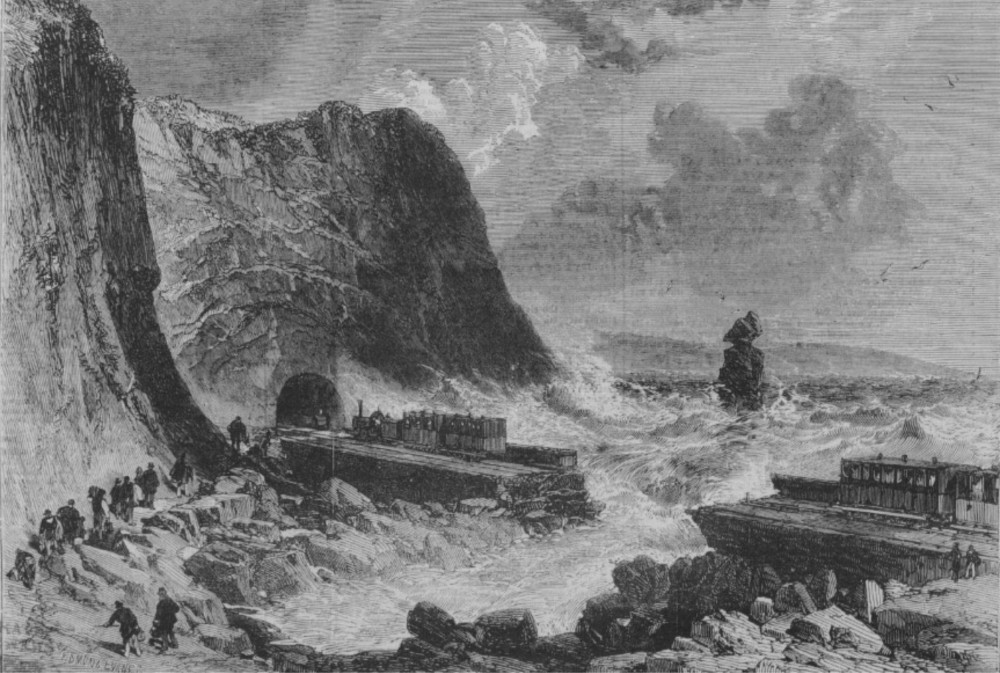 Accident to the South Devon Railway at Holcombe (Illustrated London News, 3 March 1855)
At the opening of the railway Dawlish was still a small fishing town with few tourists. However the population increased by 1,000 from 1841 to 1861 with a number of inns and hotels opening close to the station.
The South Devon Railway began to run excursions to the coastal towns. Bathing trains particularly from Exeter became popular, especially on Sundays, and fares were offered at cheap rates.
The station was wooden and the tracks fully enclosed after a second platform was added. Because Brunel had insisted on a coastal route for his railway, it was particularly prone to the elements and the sea.
In 1855, the line was totally breached at Smugglers' Lane, Holcombe which took 11 days to restore.
Back in Dawlish, a spark from a passing train set the station alight and the building was completely gutted. The new station was in the Italian style, built largely of stone and is still largely intact today.
Another big day arrived in 1892 when the line changed from broad to standard gauge to be in line with most of the country's railways.
The next main development in 1902 was the addition of a second line through the town which also brought King's Walk - a proper sea wall in front of Marine Parade.
As the new century continued, the Great Western Railway, who now ran the line, came under increasing competition from road transport.
A new viaduct replacing Brunel's structure was built in 1928 and provided far better views of the sea beneath the railway.
Next time, we will conclude our railway story...
----------
Ed: This is the eighth part of local historian Ray Bickel's series on Dawlish history. Use the links below to read previous articles:
Part One: What were the origins of Dawlish?
Part Two: The origins of St Gregory's Church
Part Three: The history of Dawlish's churches
Part Four: The origins of the Lawn and Tuck's Plot
Part Five: Tuck's Plot, the Lawn and the swans at the turn of the century
Part Six: The origins of Brunel's railway
Part Seven: Blowing up cliffs and Brunel's Atmospheric Railway