Netting and fencing to protect railway between Dawlish and Holcombe set to be installed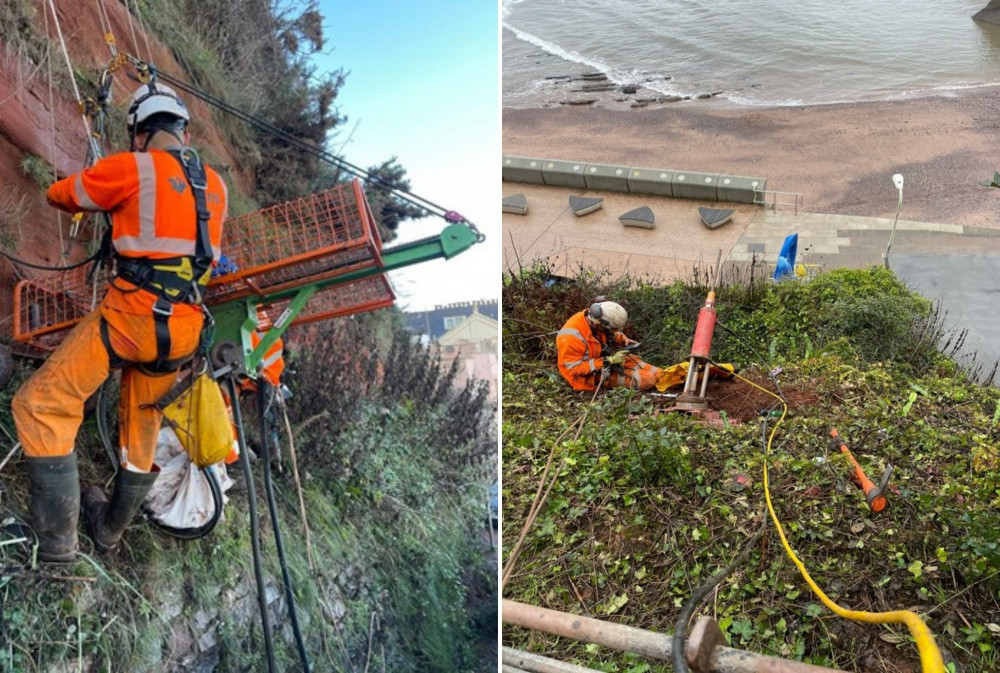 Ground investigations are almost complete (Network Rail)
Ground investigations for the installation of netting and fencing on the cliffs between Dawlish and Holcombe to protect the railway from falling debris are almost complete, Network Rail has said.
The project, which will cost £32m, is expected to start in spring 2023 and last around one year. The railway will remain fully open while the work is carried out.
The steel netting and fencing will prevent rocks and loose material from falling onto the tracks below, and will be attached to the cliffs from Dawlish to the rockfall shelter north of Parson's Tunnel.
A Network Rail spokesperson said: "We've almost completed the ground investigations for our resilience work on the cliffs along the stretch of railway between Dawlish and Holcombe.
"Later this spring, we'll start installing stainless steel mesh and bolts on the rock face to help prevent debris falling onto the tracks.
"These pictures show how we've been drilling trial holes and testing the nails and bolts we'll be using.
"In February and March, we'll be removing vegetation along some sections of the cliff ahead of the mesh installation. While it may look stark at first, the vegetation will grow back in time."
What is the progress of other projects at the railway?
Work on the first section of the sea wall at Dawlish from Kennaway Tunnel at Boat Cove along Marine Parade to the Colonnade breakwater (on Dawlish Town Beach) was completed in July 2020.
The second section of the sea wall is from the Colonnade breakwater to the Coastguard breakwater. Work began in November 2020.
Work on a new link bridge connecting the two sections of the new sea wall began in June 2022 and is expected to be complete by around the end of January.
A new accessible footbridge with lifts at Dawlish railway station is due to open in summer 2023 after work began in September.
Work on a rockfall shelter north of Parson's Tunnel between Dawlish and Holcombe began in late 2021 and is due to be complete in autumn 2023.