Dawlish and Teignmouth area weather summary July 2022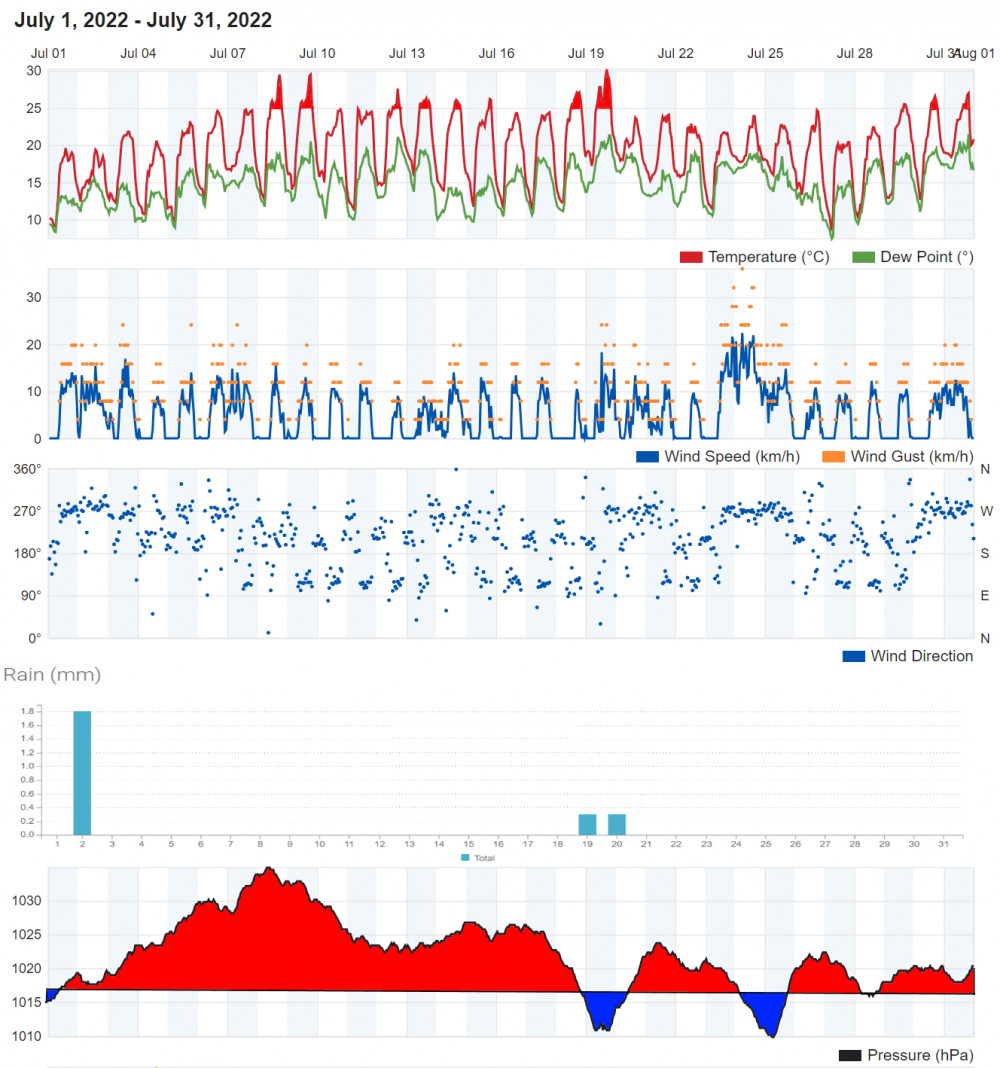 By Mike Trigger
July was warmer and sunnier than average and exceptionally dry.
Low pressure crossing Scotland brought a series of weak weather fronts across the district at the start of the month producing a little rain. High pressure moved eastwards across the country with the centre of the high over England on the 10th. The High continued East to be replaced by another extension of the Azores High across England and Wales by the middle of the month. Low pressure moving North from Biscay brought some hit and miss showery rain across the district between the 17th and 20th with thunder heard in Dawlish on the 19th. Despite this there was little in the way of rainfall totals to show for this less settled spell. Low pressure moving East over Scotland brought some weak weather fronts across the district between the 23rd and 25th and again on the 30th and 31st. These produced spells of light rain or drizzle which evaporated quickly in the warm and breezy conditions.
In terms of statistics:
The average temperature for the month was 18 to 19 Celsius, over a degree above the thirty year average. The warmest day was on the 19th when most got close to 30 Celsius and even coastal areas where in the high twenties. For most there were at least 28 days when temperatures exceeded 20 Celsius. Afternoon temperatures reached at least 25 Celsius on 3 to 6 days at the coast and as many as 14 days inland. A few inland parts had 2 or 3 days when the temperature reached 30 Celsius. The coldest morning, with a temperature between 7 and 10 Celsius, was on the 1st for most parts but a few places had similar values on the 27th although the Netherton area dipped to 5 Celsius on the 5th.
Rainfall totals across the district were between 1 and 5mm, which is well below the average of 45mm. There were around 28 days with no recorded rain which compares with the July average of about 20 days. Rainfall totals in February and March were near average but other months this year have recorded below average values.
The strongest winds were on the 24th associated with low pressure moving across Scotland producing a strong South-Westerly across the district.
Sunshine at around 240 hours was above average for July.
The sea temperature at the Dawlish wave buoy increased form 15 Celsius at the start of July to around 18 Celsius by the middle of the month.