Close defeat, but honours for Exeter Chiefs in Gallagher Premiership final against Harlequins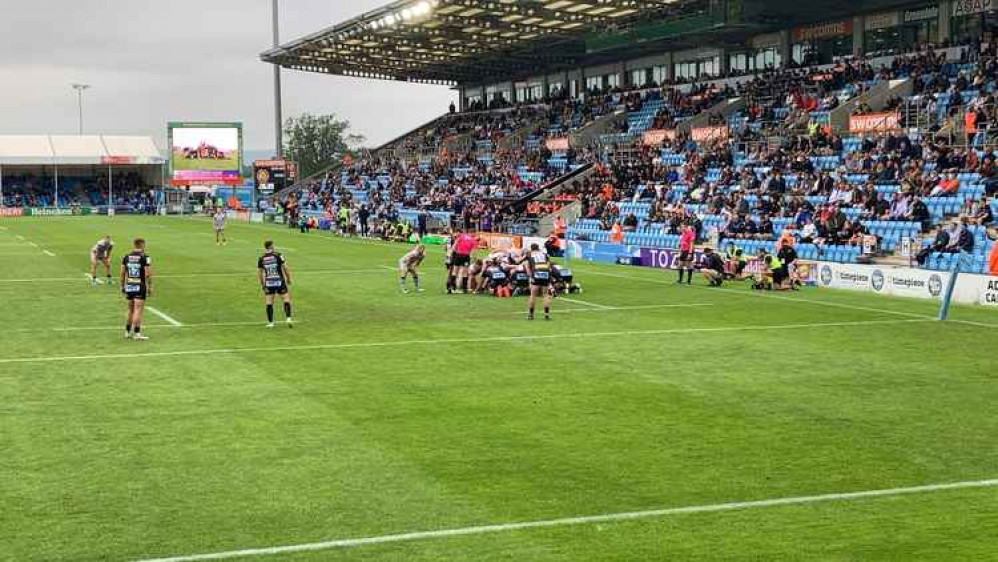 Premiership semi-final vs. Sale Sharks 19 June 2021
The Exeter Chiefs lost 38 points to 40 in the Gallagher Premiership final against Harlequins on Saturday (26 June)- but it was an all-round fantastic game of rugby from both sides, and, on a more positive note, Sam Simmonds has broken the record for most tries in one season.
The first half
At just five minutes in, Harlequins forwards steamrollered their way in a rolling maul over the Chiefs' try line - and were awarded a penalty try that left Jonny Hill in the sin bin.
Bouncing back as only the Chiefs can do when down to 10 men, Exeter's forwards scored a try after a very physical series of pick-and-gos.
Exeter then scored another try in the same way - and took the lead for the first time.
But a powerful drive from Harlequins brought them back into the game, but a missed conversion left them two points behind at 14-12.
Then, as if out of nowhere, Harlequins' Number Eight Dombrandt ran through a gap in the Chiefs' defence to bring the scoreboard up to Harlequins 19-14 Exeter at half time.
The second half
Harlequins again started strong, with a fantastic series of offloads in the backs seeing them too fast for the Chiefs and across the line for another try.
Now behind by 12 points, the Chiefs switched on their 'comeback mode' and stormed their way to Harlequins' try line, with Sam Simmonds darting through the defence for his 21st try this season - pushing his already broken record for most tries in one season one step higher.
A great offload from Cowan-Dickie to Joe Simmonds, then to Ollie Devoto, saw the Chiefs leave Harlequins in their wake as they sprinted down the field to score again - and a further penalty would bring them into the lead at 31-26.
With just nine minutes to go in the half it looked as if Exeter were going to bring home another win - but an infamous 'goose step' from Harlequins' fly-half Marcus Smith allowed him to offload the ball to Lynagh for a try.
Suddenly, Harlequins were ahead 33-31. With just five minutes left, Chiefs fans were biting their nails down to the quick.
But Harlequins went fiercely on the attack, and drawing the Chiefs' defence over enabled them to get a quick pass out to Lynagh again for another try.
It looked like it was all over for the Chiefs, down 40-31 - Harlequins seemed to think so too, taking their feet off the accelerator after an intense 77 minutes of rugby - but this allowed Kirsten to dart through the defence and offload it to Stuart Hogg for a shock try.
With just two points in the game, Harlequins 40-38 Exeter, the Chiefs had possession of the ball - but unfortunately a turnover allowed Harlequins to end the match, sealing their fortunes as winners of the Gallagher Premiership final.
Analysis
All things considered, it was a fantastic game of rugby from both sides, and one of the best and most exciting matches we've seen this season.
Honours were well-deserved for both teams, with Joe Marler winning man of the match, and Sam Simmonds adding another try to his record-breaking total of 21 tries scored this season.
Director of Rugby Rob Baxter told Chiefs media: "Quite frankly, we weren't good enough.
"We conceded 40 points - and that tells its own story.
"We came into the game with the best defence in the league and we didn't show that today.
"Any time we got a score we were then relatively passive and allowed them back into the game.
"The key to breaking teams who want to play is how good you are defensively, how disciplined you are, how hard you are working in those areas, we never really did that.
"A lot of that is great credit to Harlequins who stayed true to themselves and drove it really hard and they probably outworked us in areas we should have taken charge of."
Despite the loss, it was a great game for the Chiefs after a great season.