Parents slam Devon County Council's under-performing special education services
By Ollie Heptinstall - Local Democracy Reporter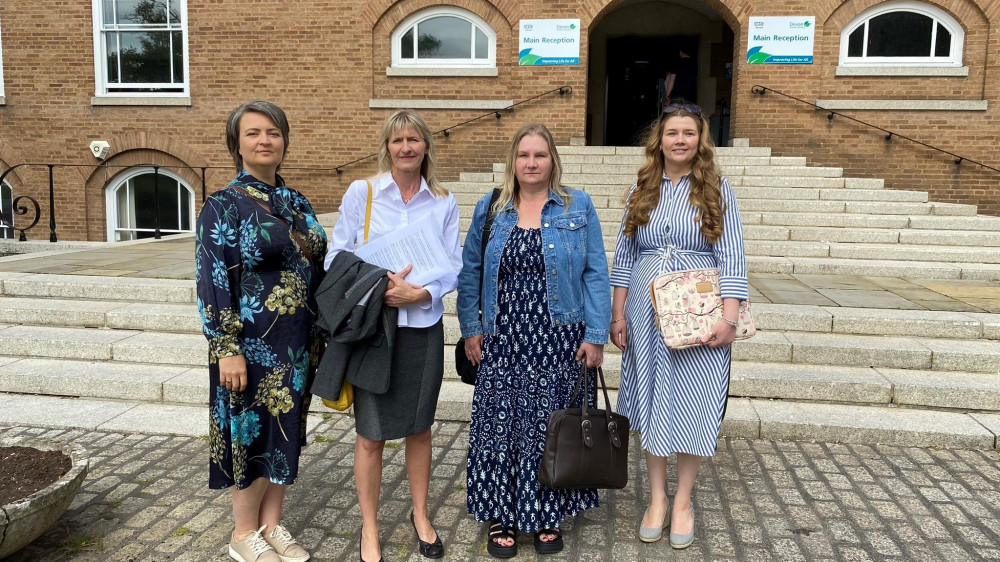 Parents of children with SEND who spoke at the children's scrutiny committee (Ewan Murrie)
Angry parents and carers have criticised Devon's under-performing special education services in front of the county council's leadership.
They say support for children with special educational needs and disabilities (SEND) is not improving, despite it now being one of the council's top priorities.
Their comments come four months after they staged a protest at County Hall about what they believe is the council's "neglect" of their children, and sent an open letter demanding "urgent action."
Last year Devon was hit with a government improvement notice for its SEND services, which it runs in partnership with NHS Devon.
Both the Conservative-run council and NHS Devon apologised after a revisit by Ofsted and the Care Quality Commission in May 2022 found progress had not been made in fixing four areas of significant concern they identified in December 2018.
Another inspection last month found the quality of social work "remains inconsistent," though DCC says it also suggested it is "now moving in the right direction, but we acknowledge that there is still much more to do."
However parents who spoke at Devon's children's scrutiny committee on Tuesday, also attended by the council's chief executive and the member in charge of children's services, expressed concern about the state of affairs.
One parent spoke of the "dire situation" faced by their family, explaining that one child has been out of school since 2016.
"They're now one year away from adulthood and have been unable to access any education at all for the last two years," Nicola Brewin said. "This is due to the lack of care they've received by Devon County Council."
She told the committee she had submitted six tribunal appeals to DCC. "Having children with additional needs is challenging, but the added stress of being forced to a tribunal so many times is horrific and is robbing my children of the support they need and the childhood they deserve."
Ms Brewin also criticised the council's processes, including for administering educational health and care plans (EHCPs), adding: "Our case presents a spotlight on the multiple failings of DCC to uphold its responsibilities to children."
Fellow parent Caroline Bolingbroke said: "I have a 13-year-old autistic child who has not been able to attend school for four years. Getting the support they need has been a huge fight. I was an education professional but now I'm at home with my child every day."
She added: "Parents of children with SEND in Devon know what is going wrong. We can help make things better but we are not being consulted or communicated with effectively. We are not seeing any improvements.
The council, under pressure from the Department for Education, has developed an improvement strategy to improve SEND services across the county, which includes recruiting more caseworkers.
But Ms Bolingbroke called it "just a wish list with no clear map of how the service is going to get from 'failing' to 'good'.
"We don't have a voice in our children's future," she said. "Our children don't have a voice. When is anyone going to listen to us?"
Elaine Davis-Kimbell, another parent, then told the committee that parents and carers of young people with SEND are "absolutely sick and tired of decisions constantly being made for us without any proper consultation.
"We are so fed up of hearing the word 'co-production' being battered about this council within improvement plans. No one is producing anything with families."
Fellow parent Astrid Harding said she is "outraged that our children and young people are missing out on their right to an education.
"We are parents and carers, not teachers, yet more and more of us are having to home-school our children as it feels the only option left to us given the significant dearth of appropriate educational provision on offer in this county."
"I myself have reached out for over two years for support now for my son, who was forced out of school due to [EHCP] issues and tribunal and is now struggling to go back to school.
"All my family's mental health and wellbeing is in tatters facing a system that doesn't care about any of these matters," said Ms Harding.
Devon's interim director of children's services, Julian Wooster, admitted the system is "failing to deliver improved outcomes for children and young people with SEND."
He added: "Parents' confidence in the system is in decline and, despite substantial additional investment, the system has become financially unsustainable. That is not a comment just on Devon. That's the comment across the country."
Mr Wooster said councils were facing a "system nationally which is not working" but accepted that in Devon "we need to make more progress than others in this area."
But the council's opposition leader, Lib Dem councillor Julian Brazil, took issue at the reference to national problems with SEND provision.
"We're one of the worst [performing councils]. We are surrounded by Cornwall – outstanding. Torbay – good. Somerset – good. Devon – inadequate. So why is it that we're so bad?
"Can we just stop saying it's terrible across the rest of the country? It's terrible here in Devon and we should look at ourselves and see how we can do it better."
In response a spokesperson for Devon County Council said: "We understand the concerns and frustration of parents and share the desire to drive real improvement across SEND services as quickly as possible.
"Giving the right support to children with SEND to the age of 25 is a national challenge and one which Devon along with many other local authorities has found difficult to get right.
"We are working closely with parents and carers, with our schools and health partners, and with the government to make things better in Devon, but there are no quick fixes.
"This is a top priority for the council and we have been able to commit extra resources this year to help support change including appointing a dedicated deputy director of SEND to lead on this.
"The most recent Ofsted inspection last month did point to some positive improvements and suggested we were now moving in the right direction, but we acknowledge that there is still much more to do and it will take some time to get this right."