Dawlish councillor welcomes new social rent homes in Widecombe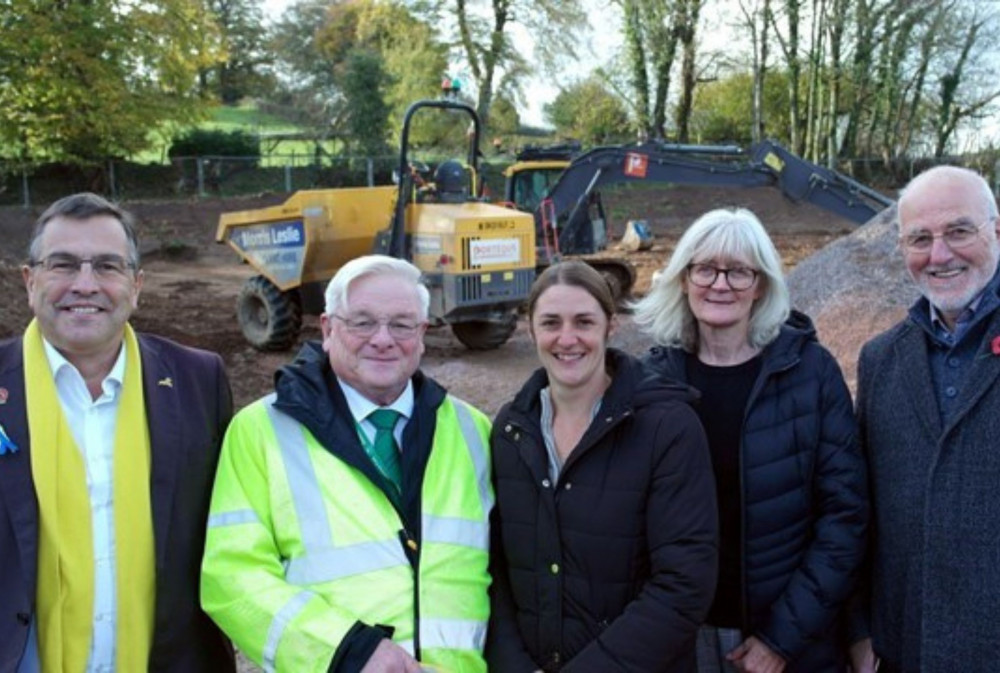 L to R: Cllr Martin Wrigley, Philip Sanders, Yvette Elliott, Jo Reece, Cllr John Nutley (TDC)
Cllr Martin Wrigley (Lib Dem, Dawlish North East) has welcomed a new affordable housing development at Widecombe-in-the-Moor for which construction has now begun.
The development will feature eight properties. They will be a mix of one-bedroom maisonette flats, two two-bed houses and four three-bed houses.
Funding for the housing comes from a £95k contribution from Teignbridge District Council, a £560k Homes England grant, and from non-profit Teign Housing.
Teignbridge Executive Member for Housing Cllr Martin Wrigley said: "This is an important, much-needed development of social rented homes in Widecombe.
"I'm delighted that Teign Housing, the Parish Council, Dartmoor National Park Authority and Teignbridge have worked so closely together to make this happen.
"I would like to thank everyone for their effort and I look forward to eight sets of keys being handed over to local people for their new homes."
Dartmoor National Park Authority Development Management Committee Chair Philip Sanders added: "The delivery of small developments of affordable housing is a lifeline for Dartmoor villages like Widecombe, enabling families, younger people, and older people to have the opportunity to live in their own community.
"These affordable homes for local people will be an important asset for the community of Widecombe now, and long into the future."
The development, which will be available for social rent, is expected to be complete before the end of 2023.
Those who can demonstrate "a strong local connection to the area" will be given priority.
Anyone interested in applying can register in advance and check the Devon Home Choice website.