New English classes for Ukrainian refugees begin in Dawlish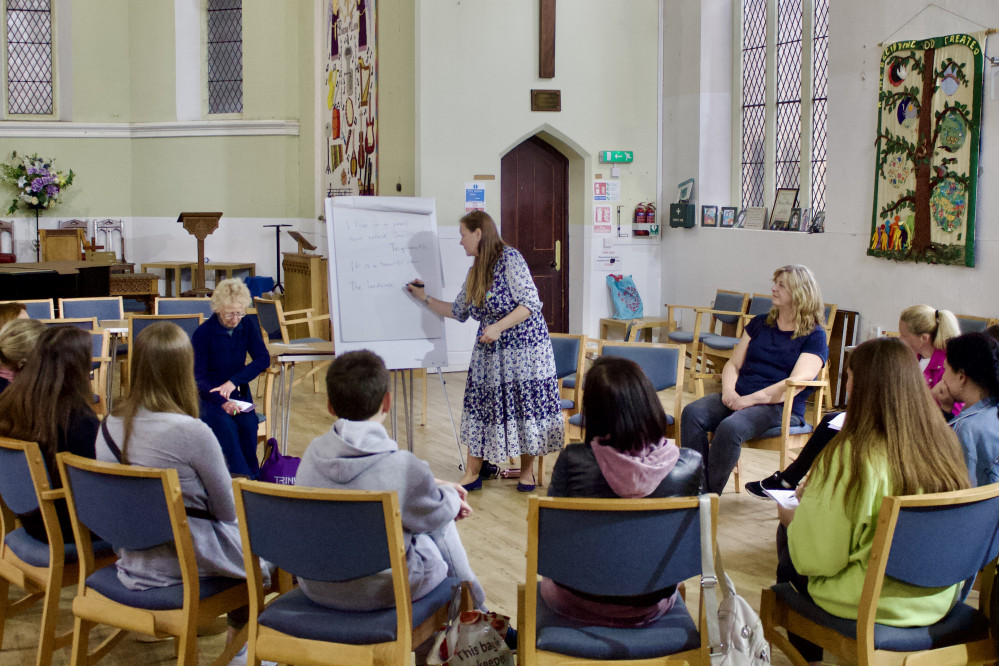 Jody Merelle leading the English conversation class (Nub News, Will Goddard)
New English classes for refugees escaping the Russian invasion of Ukraine began this week in Dawlish.
The majority have only recently arrived in the local area, and almost 100 families are now staying with households in Teignbridge as of 4 May.
Lida Kuzomko, 35, a beautician from Bila Tserkva (near Kyiv), attended one of the English classes.
She left Ukraine on 1 May, driving by car to Vienna in Austria before flying to Bristol. She is now staying in Teignmouth with her two children. Her husband, a policeman, is still in Ukraine.
Lida said: "I was in the Carpathian Mountains in Ukraine when the war started, and my husband called me and he said that we have a choice to live in the United Kingdom.
"I [didn't] want to go [somewhere for the] first time where I don't know [the language].
"I know just a little bit of English, [so I thought] it will be easy to me to go here than [to go to] Deutschland or France."
Viktoriia Zviholska, 38, from Poltava (near Kharkiv), also came to the class.
She left Ukraine on 10 March, first fleeing to Poland, then to Switzerland where she stayed for one month. She arrived in the UK on 29 April and is now staying in Teignmouth with her son.
She said: "[It was stressful] but in Switzerland [we had a] very good family and here a very kind [family].
"[After] two months [of] war, we can't believe [we're here].
"My city and here, very green. [There are] many smells here, it's very good, green clovers.
"I have my son, my son came here, and [he had his first day at school this week]. He like school. He needs to talk children, is happy. [He can speak a] little English. I think this may be for him very difficult."
'The Ukrainians who have come have been so brave'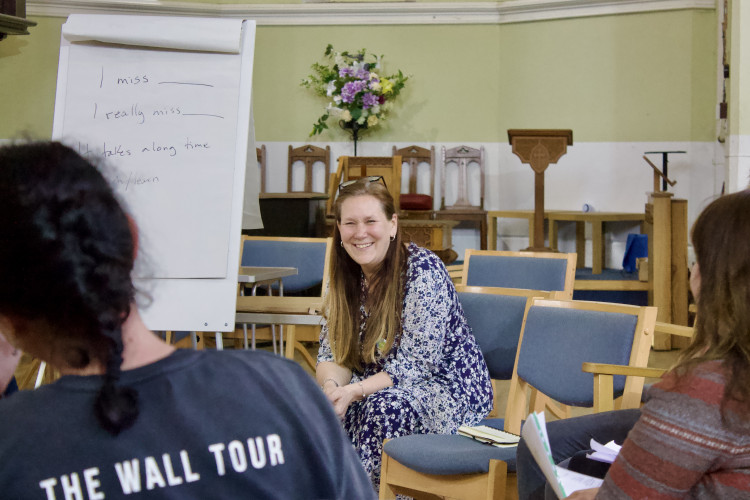 Jody Merelle, a former language teacher, is one of 15 who have offered to help teach (Nub News, Will Goddard)
Jody Merelle, a psychotherapist who lives in Dawlish, led one of the classes. A former language teacher, she decided to offer her services.
She said: "I'm just so angry about everything that's happening in Ukraine. I was sitting in front of the TV every night in tears and thought that we have to do something.
"We've got a group of about 15 teachers… we've split ourselves into three groups. We've got one group teaching the children... a group teaching beginners English to adults, and then we're doing the group that already speaks English.
"We've got ... lovely, generous people in Dawlish and Teignmouth, and they've just been amazing. A lot of people don't get credit for it - I'm the sort of face of it - but lots of people behind the scenes are doing things every single day.
"Together, we can achieve so much. I don't think any one person can make a huge difference but together we can make a massive difference.
"A couple of weeks ago we only had two families in the area, and as visas have started coming through, there are people arriving every day.
"I just think that the Ukrainians who have come have been so brave. They were talking tonight about leaving husbands behind. One lady [said] her hobby was cultivating roses, she had a garden full of roses, and she's had to leave it all behind - she had tears in her eyes when she was telling us that.
"They've somehow, through all of what they've been through, they manage to stay positive. I think we've got a lot to learn from them."
To find out more about the classes, you can join the Dawlish and Teignmouth Homes for Ukrainians Facebook Group here. All are welcome to join the informal tea and coffee session afterwards.