Dawlish councillor becomes Teignbridge District Council leader
By Guy Henderson - Local Democracy Reporter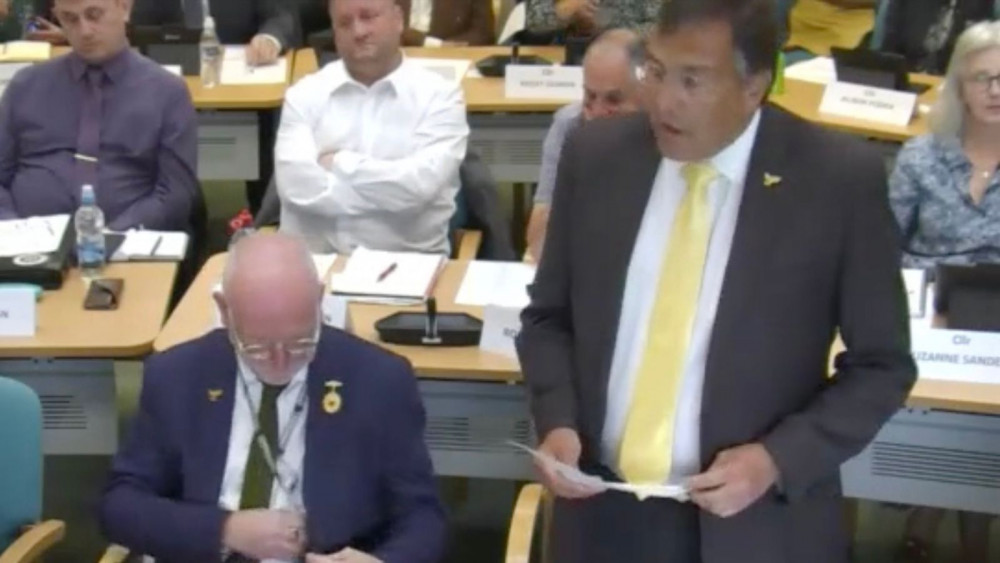 Cllr Martin Wrigley, right (TDC)
New Teignbridge District Council leader Martin Wrigley has pledged to give towns and villages across the district more of a say in how the "community-powered" authority is run.
But his Liberal Democrat party had a rough ride through his first meeting in the hot seat, with a long wrangle over who should be appointed to serve on local organisations including the Dartmoor National Park Authority and the local health trust.
Amid complaints of a "lack of transparency" another leading Lib Dem councillor insisted: "This is not a stitch-up."
Cllr Wrigley (Lib Dem, Dawlish NE) was elected to lead the council by 32 votes to nine, with Cllr Richard Daws (South Devon Alliance, Ambrook) missing out.
Cllr Wrigley told the full council meeting on Tuesday: "We ran on a manifesto to transform Teignbridge into a community-powered council, and that is what we intend to do."
Examples, he said, included groups of community volunteers working on local "garden communities" and local town and parish councils working on environmental projects.
"I intend this to be an inclusive council," he added. "One where the voices of all 47 councillors can be heard.
"We need to work together because we have a lot of work ahead. I look forward to working with all of you to make good things happen for the residents of Teignbridge"
But, he warned: "We need to look at our finances and the way we run the business of this council, and find ways to be more efficient and more effective."
The meeting moved on to discuss the names of councillors appointed to serve on a long list of outside bodies, and a number of newly-elected councillors said they felt excluded from the process.
Cllr Phil Bullivant (Con, Bradley) called for more "common sense and democracy" in choosing which councillors served on outside bodies while Cllr Jane Taylor (South Devon Alliance, Kerswell-with-Coombe) called for more diversity in the appointments.
There were complaints that the council's ruling Liberal Democrats dominated the list, and Cllr Andrew MacGregor (South Devon Alliance Independent, sitting with SDA group, Bishopsteignton) said it demonstrated "a lack of transparency and a lack of openness".
But Cllr Andrew Swain (Lib Dem, Teign Valley) insisted: "We all support openness in the council. I would urge all members not to see this as some sort of stitch-up. It is not."
Members eventually agreed to pass the list of appointments as it stood while inviting nominations for some positions at the next council meeting.